Organizing work-related projects is something with which many YALSA blog readers might struggle. Time to plan and implement projects can be challenging. Sometimes it's a struggle to get even one thing from a list of tasks accomplished, particularly when it's important to interact with the teens as much as possible – and not hide away in an office making sure administrative tasks are taken care of.
There are several technologies that can help you get through your day. Three to get you started are: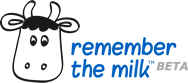 Remember the Milk – is a web-based software that makes it really easy to keep track of tasks you need to accomplish. Sign-up for a free account and start creating lists of the things you need to do. You can integrate your lists into online calendars – such as Google Calendar – and access what you need to do on handheld devices, cell phones, etc. You can even setup Remember the Milk to send you reminders via Twitter. It's also possible to collaborate with others using Remember the Milk. Maybe you and the teens in your TAG need to develop a list of tasks that need to be accomplished for an upcoming program. You could create that list together even when the teens aren't in the library – just use Remember the Milk to make it happen.


Google Calendar – Of course Google Calendar is just one of the web-based calendaring services that you might use to help manage your daily work life. What's exciting about several of the web-based calendars is the ability to give others access to your calendar in order to plan together. You and the teens you work with could use a web-based calendar (like Google Calendar) to plan projects together. If you share a project planning calendar with teens (or colleagues) you can each put tasks and their due dates on the calendar and also provide updates of how things are going day-by-day via the calendar interface.
Meebo – Having easy IM/chat access to people with whom you work (teens and colleagues), can be important when getting through the day. Meebo is a perfect tool for making that possible. Once you sign-up for a Meebo account you can IM with others no matter what software product they use (Yahoo!, AIM, gTalk, etc.). Meebo also makes it possible to setup rooms in order to have group conversations. This is the perfect way to have quick decision-making conversations or meetings, even when participants can't be physically in the same place.
All of these web-based technologies provide the opportunity to collaborate on project management tasks. They also can help you to keep records of a project process. For example, you can go look at to do lists on Remember the Milk, even if you completed all of tasks on a particular list, when you need to write administrative reports. This is a great way to remind yourself of what you accomplished when working on a particular project. Or, you can look at transcripts of Meebo chats and integrate some of the conversation in your reports. This can help you demonstrate teen involvement in project planning and implementation. (Of course you want the teens to agree to having their words included in the report.)
At first, it might seem that using technology to help manage your day actually gives you more to do rather than less. However, usually, within a short period of time, people discover that the ability to connect, collaborate, and manage tasks and projects from multiple locations makes it possible to get work done more successfully and efficiently than ever before.