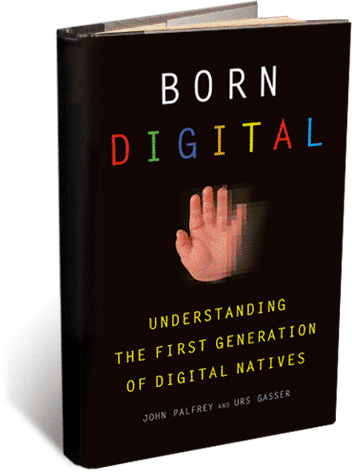 The title of this blog post is from a slide that was part of a presentation by John Palfrey that I was fortunate enough to attend. The topic of the talk was Born Digital and Palfrey covered a number of areas that should be of interest to librarians serving teens. Some of Palfrey's big ideas are:
Libraries need to move away from thinking that virtual services and physical services as two separate entities. Teens do not think about their digital worlds as separate from their physical worlds. In order to reach the age group, librarians need to provide seamless services that allow for convergence across these worlds. Libraries have physical spaces and digital spaces, but how well do we connect the two and make it easy for young people to move between them?
There is a difference between the participation gap and the digital divide. The digital divide is a divide based on access to technology. The participation gap is a gap that comes from the opportunities teens have (or don't have) to participate with technology. Do teens get to participate in technology-rich environments in school in order to gain information and media literacy skills? Do they get to participate in technology-rich environments in the public library in order to practice information and media literacy skills? How do we give teens the chance to participate with technology in order to make sure there isn't a gap between those teens who participate all the time and everywhere and those that only participate in a very limited way? In other words, access is only a piece of what teens need in order to succeed with technology.
Much of the most disruptive technology has been developed by young people. Mark Zuckerberg with Facebook, Sean Parker with Napster, etc. While we often think of young people creating in technology based environments, we sometimes forget that that creation has often been quite powerful. Palfrey noted, "Innovation is happening through young people."
Palfrey didn't have much time to talk about the title of this post, "Predicting the future by inventing it." But, I have to say, there is definitely something in that statement that librarians need to consider.
Thinking about what I mention above from Palfrey's presentation:
I wonder what we are doing to create those seamless environments for teens where the physical and virtual converge? What does that convergence look like? How do our services change? Where do we meet teens virtually and physically in that convergent world? Obviously, I have more questions than answers, but I think we need to come up with those answers and invent that convergence.
Participation in technology is key and we need to make sure that teens get to participate in all aspects of technology use from mobile devices to social media. If teens have access but can't participate, say in a school or public library that filters Facebook, YouTube, etc, then those teens aren't gaining the skills they need in order to succeed in the 21st century. We need to give teens those participation opportunities and we need to stand up for the need for those participation opportunities. That's the only way that a prediction of all teens being technologically savvy can come true.
What if we recognize that what teens are creating when in online environments is both powerful and potentially positively disruptive? As Palfrey spoke I thought about the teenage boy who created the game app (Bubble Ball) that took over the #1 spot from Angry Birds in the iTunes store. That was definitely positively disruptive. As librarians what can we do to encourage teens to create powerful positively disruptive content and ideas in the technological environment? Perhaps we have to be more open to teens trying things out that we might not have any idea about. Or, we need to give teens access to the tools required for powerful positive disruption, which probably means getting rid of limits that we place on technology in libraries. Can we predict (and support) that teens will create powerful disruptive content in the library by allowing them to invent?
No one can predict what teen librarians that put their minds to inventing can do. Why not go for it and invent the future of teen library services by considering some of the ideas presented by John Palfrey and using these to create new and improved initiatives for teens?