It's a great time to be a comics fan.
There are loads of amazing ones coming out right now. The Newbery, Caldecott, and Printz committees all recognized graphic novels as honor books this year. People are starting to sit up and pay attention to the world of comics and graphic novels, so I am here with a list for your kids (AND YOU!). Happy reading! And welcome to the comics life.
Lumberjanes is by  Noelle Stevenson, Grace Ellis, and Brooke Allen. It's published by Boom studies in single-issue format, but the first trade paperback (collecting issues 1-4) is out on April 7th. Y'all, this one is so incredible. Feminist, funny, and constantly focused on friendship, this series is set at a summer camp and shouldn't be missed.
PrinceLess by Jeremy Whitley has been a relatively new find for me and I'm obsessed. Princess Adrienne is tired of sitting around in her tower waiting for a prince to slay her dragon and rescue her. So she and her dragon decide to go do the rescuing themselves. Completely turns sexist and racist tropes on their head, as displayed by this panel:
PrinceLess hasn't been checked in since we got it. Your kids are gonna love it.
The Explorer books (there are three) are comics anthologies edited by Kazu Kibuishi, whom your students already know because they adore amulet. This trilogy asks well-known comic artists like Raina Telgemeier, Emily Carroll, and Faith Erin Hicks, to write comic shorts based on a topic. They're amazing. There's something for everyone in this series!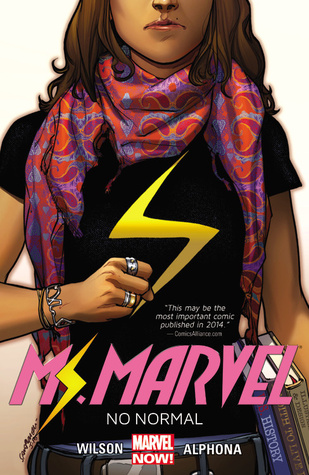 Ms. Marvel by G. Willow Wilson. Kamala Khan is a Pakistani-American teenager in Jersey City who suddenly and quite accidentally becomes empowered with extraordinary gifts. She has to figure out how to handle being a typical Muslim teenager–who's now a superhero.
Honestly, when I discovered these (there are two so far), I bought them based solely on the tagline: "Yet another troll-fighting 11-year-old Orthodox Jewish girl." Basically, that's enough to sell me, but Mirka is fun and amazing and her religion is shown as something that's part of her life, not something to be overcome or chafed against. Plus, dragons.
This is just a really small cross-section of all of the wonderful comics for kids that are being published right now. I hope you and your kids love them as much as me and mine do!
*
Our cross-poster from YALSA today is Ally Watkins (@aswatki1). Ally is a youth services librarian in Mississippi, and has worked with ages birth-18 for the last 6 years.