Hello again,
In this post we are going to examine the concept of equity, and what it means within this year's theme Striving for Equity Using YALSA's Teen Services Competencies for Library Staff.
Equity is often confused with equality, and it seems to be the least understood of the three concepts of Equity, Diversity and Inclusion. There is a well-known graphic, the original by Craig Froehle and updated by Angus Maguire (below), of three boys attempting to watch a ballgame over a fence, and how the concepts of Equality and Equity are very different. (Interestingly, this graphic may not satisfy everyone, as this Cultural Organizing blog post, and others, explain.) There, too, have been many variations and additions to this graphic's differentiation, which we will get into as the year goes on.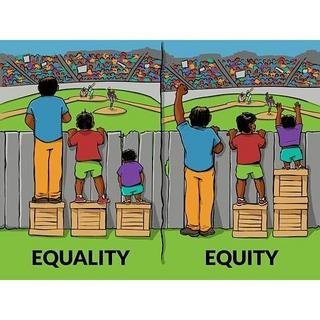 There are many definitions of equity. One that deftly explains the differences between equity, diversity and inclusion is the "table" analogy. Diversity attempts to invite people from various backgrounds to the table. Inclusion ensures that the voices of those invited to the table are heard. Equity looks at the actual structure of that table to determine if the table itself is what is preventing full participation from folks of all backgrounds.
The Independent Sector clearly defines Equity as: "the fair treatment, access, opportunity, and advancement for all people, while at the same time striving to identify and eliminate barriers that have prevented the full participation of some groups. Improving equity involves increasing justice and fairness within the procedures and processes of institutions or systems, as well as in their distribution of resources. Tackling equity issues requires an understanding of the root causes of outcome disparities within our society."
There are many inequities, and although we will attempt to look at ways to mitigate them this year through the lens of each of the YALSA Teen Competencies for Library Staff, it will not be possible to cover them all in detail. But as an example of the sort of inequities we will explore this year, the chart below from the University of Southern California School of Social Work blog MSW@USC's Diversity Toolkit (attributed to Jeremy Goldbach) is a place to start. Keep in mind that this perspective is that of a typical "western" society; other cultures may and will have different points of view of who the target and non-target groups would be.
Next week, we will start to explore some of the engagement strategies that we will be examining in the months ahead.
Todd Krueger, YALSA President 2019-2020    Twitter: @toddbcpl